Posted by Northtac on on Aug 13th 2022

Red Dot Sight is an opto-electronic device that allows you to shoot faster and more accurately than with iron sights.
As the most common subcategory of reflex sights, the red dot sights use as a point of aim an illuminated red dot produced by a red light-emitting diode (LED).
Another subgroup of reflex sights uses a laser and a series of mirrors to create a red dot or reticle in the form of a hologram. Hence the name holographic sights.
Unlike a magnifying scope, red dot sights, like all reflex sights, come without magnification. However, you can pair the red dot with a magnifier if you do want to add some magnification.
As extremely versatile optics, red dot sights can be used on nearly any platform including handguns, rifles, shotguns, and even hunting bows.
In less than 50 years of their existence, red dot optics have recorded many improvements and upgrades.
The red dot sights feature two major styles: traditional, tube-like styles and open or window-based designs.
The original full-sized red dots were designed as closed, tube-style red dot optics for rifles. Today, the compact and micro red dot open sights are more common, and better suited for handguns, but they also can work well as primary optics on some long guns.
Due to their physical differences, red dots also sport footprints of varying sizes; thus, they need different mounts and types.
Compared to the early models, the modern optic sights are becoming more and more robust and resistant, but also, they are filled with sensitive electronics, sensors, and illuminated reticles. In other words, they are more prone to electronic failures or battery drainage.
That problem takes us to the subject of this short brief - Red Dot Sight Mounts.
Though red dot (reflex) sights were initially developed for sporting guns, the armed forces soon noticed all the benefits of this sighting system and adopted it for military applications. But like any electronic device, RDS can fail, so it's wise to consider the co-witness sights as a reliable backup.
To make the long story short, the last thing soldiers want is an optic to fail them during a battle, so the military requested that the iron sights can be used without removing the red dot optics.
As an answer, the industry developed lightweight and durable designs for mounting red dot sights that allow the use of backup iron sights.
Of course, the concept of Co-Witness Sights was quickly accepted by hunters and particularly by the civilian AR-15 owners who also want to be prepared for the worst-case scenario in home defense situations.
A side note: The traditional magnifying scopes have the see-through mount with a tunnel milled in the mount base which is the counterpart to the co-sighting systems in the red dot world.
While some red dot sights use proprietary mounting systems, many RDS come with an integrated or preinstalled Picatinny rail mount.
Sometimes, Picatinny rail mounts may not give you enough height from the mount rings for the optimal red dot positioning, so you will need adapters. Adapters or Picatinny riser mounts will, of course, raise the height of the sight.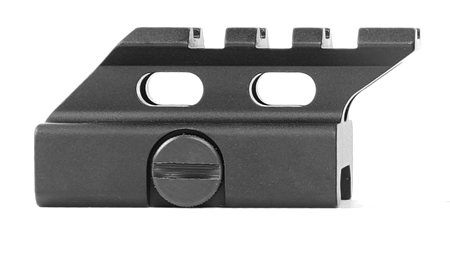 Picatinny Low Riser Mount
Generally, the Picatinny riser mounts are designed for elevating red dots, scopes, flashlights, and other accessories.
Picatinny risers attach to any standard Picatinny rail, and they are designed to provide the extra height for optimal sight alignment. Picatinny rail risers usually feature an aluminum alloy construction, but the premium Picatinny rail risers are CNC machined from 7075-T6 aircraft-grade aluminum.
Picatinny Rail Risers may come in different lengths and heights but the most popular is the Picatinny low riser mounts that raise the mounting surface by 1/2" The 1/2-Inch Picatinny Low Riser is ideal for any AR-15 Flattop and M16 receivers and other tactical rifles.
Picatinny Low Riser mounts to existing Picatinny-style rail and it is the easiest way to make the sight clearance over front sights.
This riser provides a low-profile QD solution for red dots, elevating them to a .50" above the mounting surface (from the center of the ring to the bottom).

Absolute Co-Witness T1 Pattern Mount
While the ⅓ Co-Witness system shows a red dot that hovers above the top of the front sight post, the absolute co-witness has the whole front iron sight visible through the sight picture. It suggests that for the absolute co-witness with AR-15 height sights, one will need an optic mounted at about 2.6″ above the center of the bore.
Unlike the lower 1/3 Co-Witness T1 Pattern Mount design, an Absolute Co-Witness T1 Pattern Mount provides a .83-inch riser mount that keeps the red dot mounted at the same height as the standard AR sights.
An absolute co-witness is recommended for those with flip-up or folding iron sights.
Lower ⅓ Co-Witness T1 Pattern Mount
Speaking of co-witness sights on AR-style weapons there are two main co-sighting systems: the absolute or 100% co-witness and 1/3 co-witness or lower third. The term co-witness refers to the relationship between iron sights and red dot optics on a rifle, i.e., how much the front sight is visible through the sight picture.
That said, the front sight will occupy only the lower 1/3 of the sight picture when you install the lower ⅓ co-witness T1 Pattern mount. Built from the 6061 T6 aluminum, this low profile, lightweight Lower ⅓ Co-Witness T1 Pattern mount boasts a machined recoil lug that locks tight for exceptional clamping force and for consistent, repeatable mounting.
Because the co-witness optic should be mounted higher than the iron sight, lower 1/3 co-witness sights are required a taller optic mount, so a 1″ riser is preferred,
For AR platform gun owners, it means that for Lower 1/3 co-witness, the red dot should be mounted at 2.8″ above the center of the bore.
Besides advantages both co-sighting systems also have downsides and the most pronounced is the cluttered sight picture with a rear and front sight. Considering that, the Lower ⅓ Co-Witness T1 Pattern Mount is more forgiving offering a broader field of view and allowing you to use it with fixed iron sights. In addition, the taller 1/3 mounts are more comfortable to use with ear protection.