Posted by Northtac on on Jul 19th 2022
Gun ownership has grown significantly, with 7.5 million new gun owners appearing between 2019 and 2021. It's become clear that more and more people are getting into gun ownership for safety or as a hobby.
For veteran gun enthusiasts, military optics can be a fascinating subject. Although there are several different types of scopes available to the general public, the ones used by the military must be of the highest clarity, durability, and magnification.
In this article, we look at each different scope and red dot sight reflex used by the U.S. military. So read on!
Types of Red Dot Sight Reflex Optics Used By the Military
It's interesting to see how quickly the military has changed from simply using iron sights for their firearms to adding optics to most options. These days, there are a wide variety of different optics used.
EOTech EXPS3-0 (SU-123A)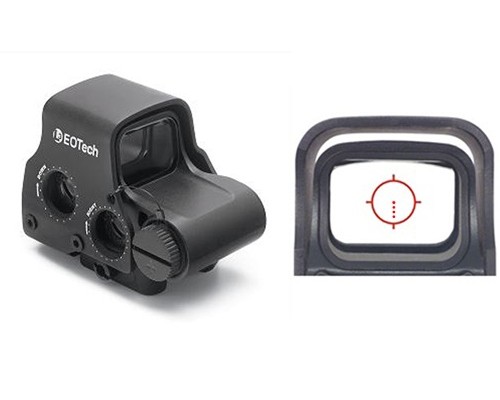 The EOTech EXPS3-0 is the only holographic optic that is currently being used. This model, the SU-123A, replaced the previous SU-123.
A holographic sight uses a reticle that contains a hologram that's lit up by a laser. This allows the reticle to be smaller, meaning higher accuracy. The reticle can also stay unchanged even with temperature fluctuations.
Holographic optics are very durable and can withstand a beating. It is the optic of choice for soldiers from the Navy SEALS, the Green Berets, and the Marine Raiders.
They can be mounted on small arms with a Weaver rail or a MIL-STD-1913 Picatinny rail for more precise aiming.
It provides a crystal clear reticle that can be used for several different tasks. It also features a compact optic with a large window. The only downside is a lower battery life compared to competitors.
Trijicon RMR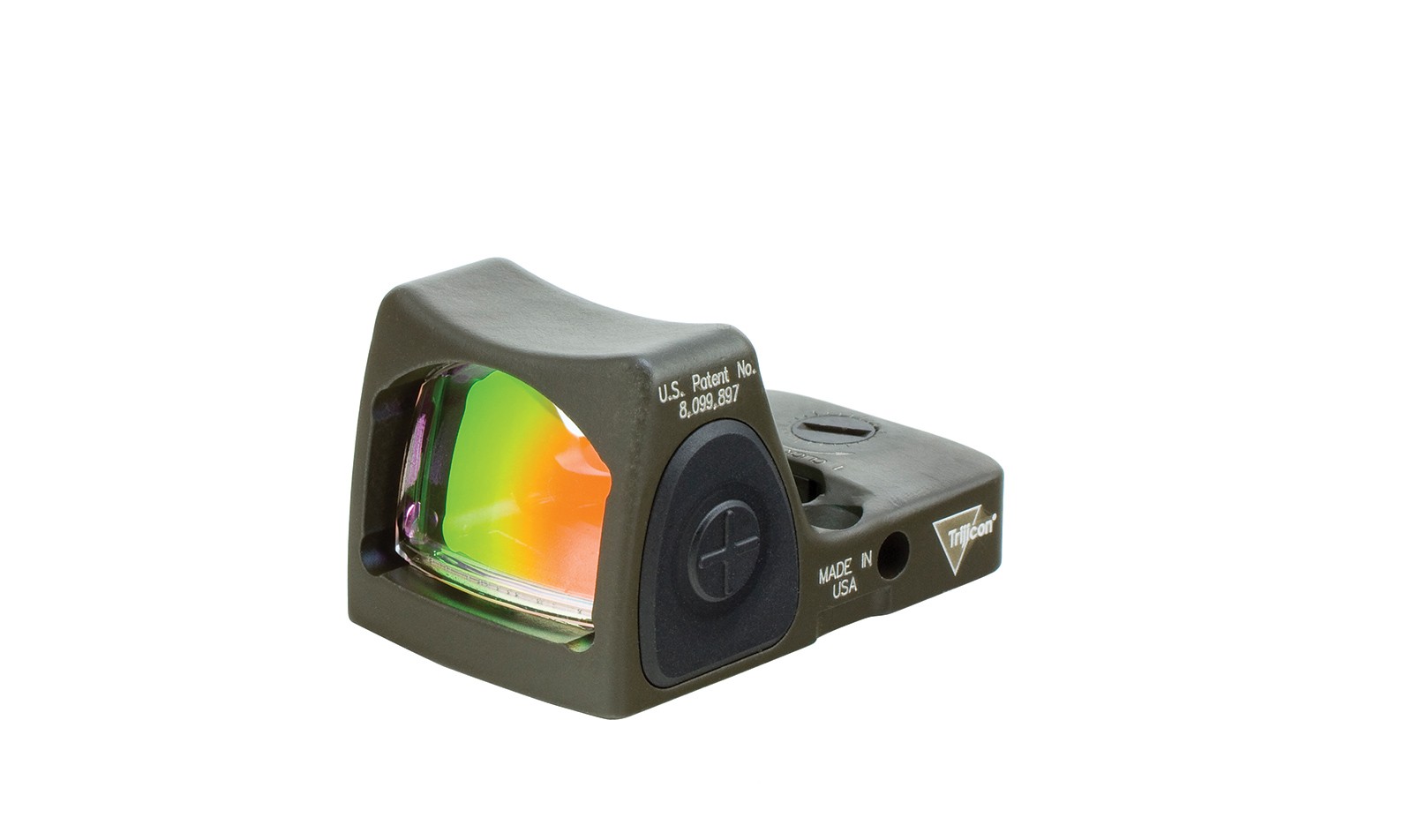 When it comes to handguns, Special Operations Command (SOCOM) prefers the Trijicon RMR Type 2.
This mini red dot sight is small enough to be slide-mounted. It is incredibly tough and can take abuse.
It's perfect for pistols but can also be found on rifles and machine guns as backup optics. It is also a popular red dot sight for AR rifles.
The Trijicon RMR has been used as a close-range backup for machine guns in the Marine Corps.
L3 MRDS Docter
This Docter sight is one of the original mini red dot sights used as backups for ACOGs and heavily magnified optics. This site offers quick, close-quarter combat.
Aimpoint Comp M4 - M68 CO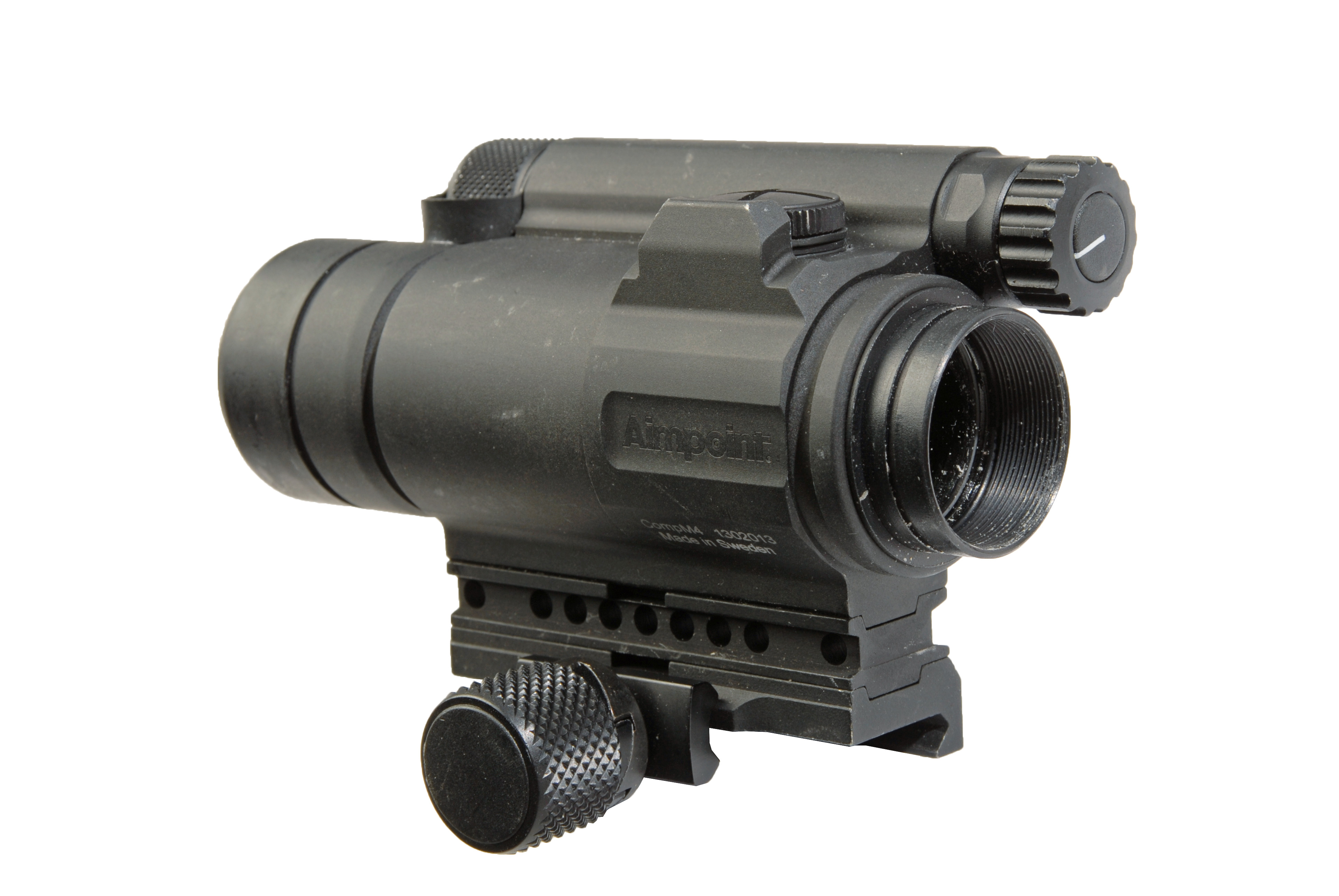 The Aimpoint Comp M4 is one of the most widely used optics in the military. The U.S. Army replaced the Comp M2 with the M4 and uses this as its close-quarters optic.
This sight is simple and rugged. It can withstand any recoil, drops, falls, and water. It's a popular reticle because it is effortless to understand and use, regardless of their experience.
It also has an 8-year battery life just by using AAA batteries, so you know it won't die quickly on you.
Types of Scopes Used By the Military
When it comes to spotting scopes, the military requires high-power and shockproof spotting scopes. Let's look at some of the military's top scopes and their features.
Vortex VipH.D. H.D. 20-60X85 Angled Spotting Scope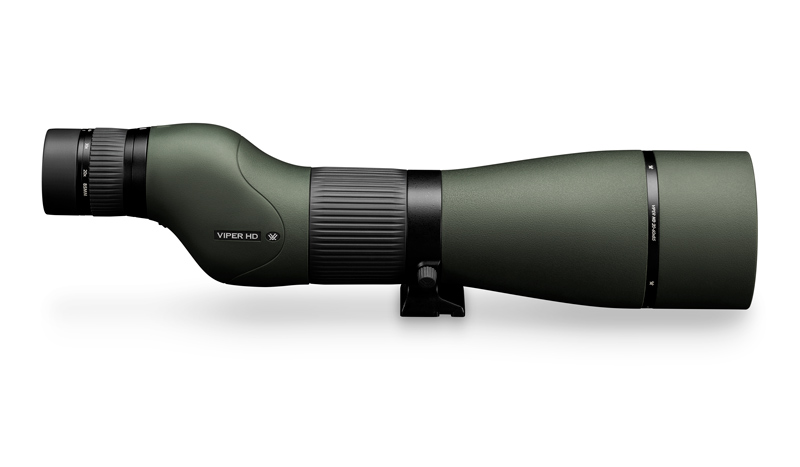 The Vortex Viper is a preferred option for the military because of its significant magnification power of up to 60x.
Its objective lens diameter is 85mm, which allows it to catch more light and give a better view even in low-light scenarios. It has ultra-sharp high definition imagery, which is highly valued by the military.
It's also very portable and robust. It features an ArmorTek lens coating that keeps it abrasion-free, even in rough conditions. The ultra-hard coating also prevents scratches, debris, and dirt.
Leupold Mark 4 20-60×80 Spotting Scope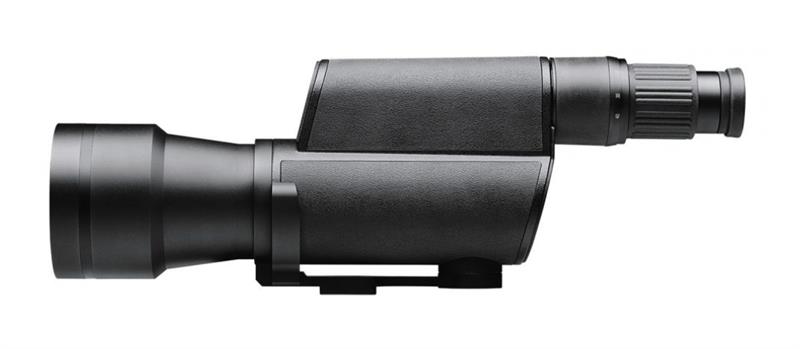 Leupold has produced some of the most used sights for the military since 1988.
The Leupold Mark is another military favorite because of its next-level accuracy with a Tactical Milling Reticle (TMR). It has marks for bullet drop and wind compensation instead of just pointing at an object.
The Leupold has an extended twilight lens system, allowing both red and blue colors to be maximized even in low-light conditions. It has a magnification power of up to 60x and an objective lens diameter of 80mm.
It is also quite durable, with the Diamondcoat 2 technology making it abrasion-resistant.
Burris Signature H.D. 20-60×85 Spotting Scope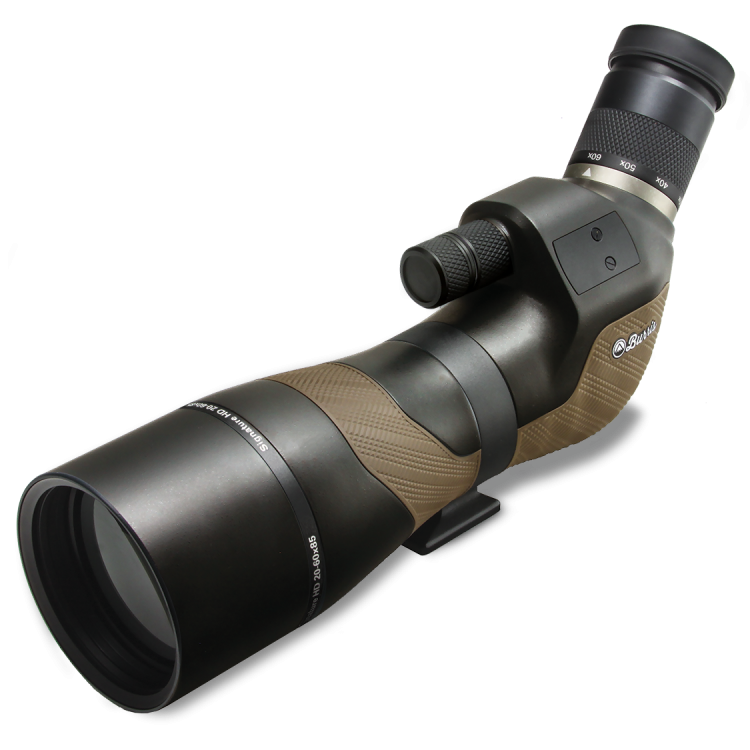 The Burris Signature H.D. has an ultra-sharp image quality that sets it apart from the rest of the competition. This comes from its APO lens, which features index-matched lenses.
It also comes with a 20-60x eyepiece that allows you to change your reticle according to your need.
M68 Close Combat Optic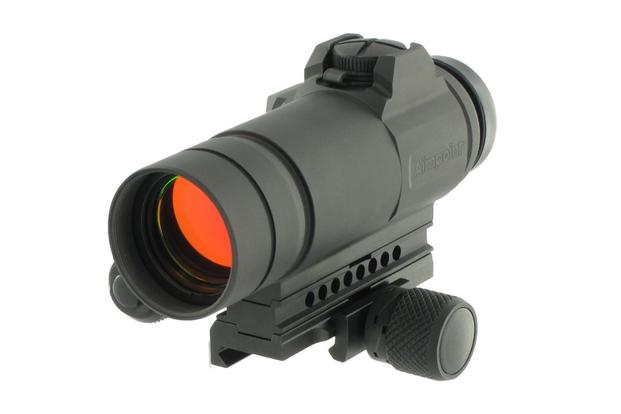 This standard army scope is also known as the M68 CCO. It is compatible with both M4 and M16 rifles. They can also be fitted onto weapons that have an upper Picatinny rail.
The M68 CCO is a reflex red dot sight that features a non-magnifying red dot. This red dot will not change position based on eye position from around 50 yards.
The brightness can also be adjusted to extend its battery life and create better visibility. Users can engage targets 300 meters away and keep both eyes open while doing it.
Besides the Army, several law enforcement organizations, such as SWAT, use the M68 CCO. It is highly accurate, reliable, durable, and easy to use.
Advanced Combat Optical Gunsight (ACOG)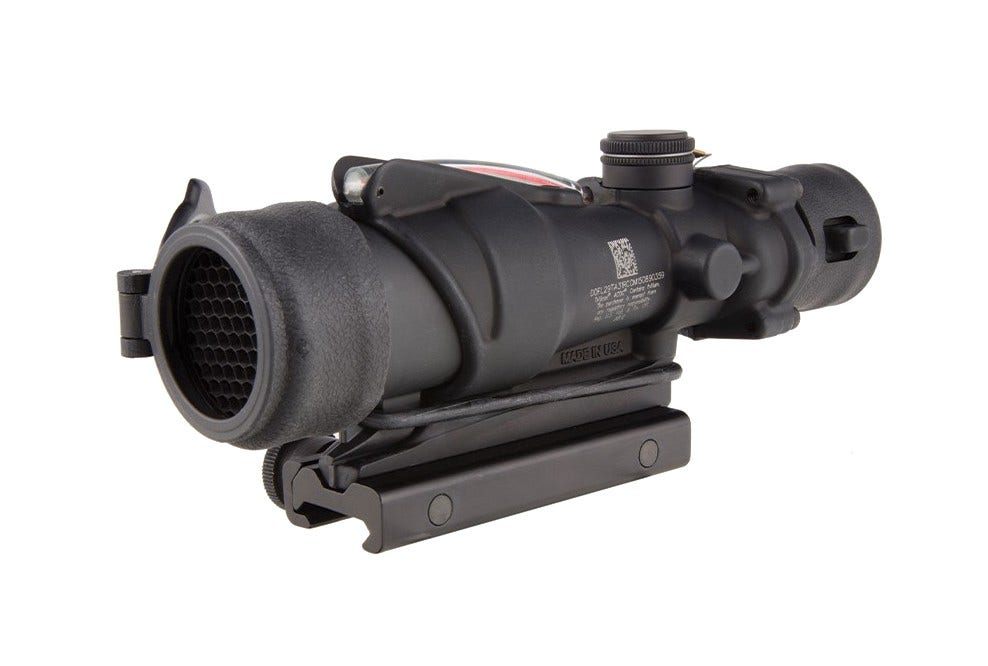 ACOG scopes are very popular with civilians despite their original use for special operation units. They are conventionally used by the marine corps as well as Army units.
The tritium fiber optic allows you to adjust the brightness based on the outdoor setting. It has 4x magnification power with a lens diameter of 32mm.
Find the Best Firearm for Your Needs
Scopes and optics used for the military have high magnification power, high-definition clarity, and large objective lens diameter.
All the scopes listed above have these characteristics, making them widely popular optics on the civilian market.
If you're looking for the best deals on sights and scopes, check out Northtac. Find the best red dot sight reflex or scope for your firearm now!